1. Helmet and facemask (CSA approved);
2. Mouthguard (mandatory - all levels);
3. Gloves (beginners can use hockey gloves, but lacrosse gloves are recommended
as they provide for better stick control)
4. Lacrosse Stick; ** 40" minimum length and 46" maximum length (PEEWEE AND BELOW - MINIMUM LENGTH IS 34")
5. Shoulder pads (Mini-tyke to Novice players could use hockey shoulder pads).
Lacrosse shoulder pads tend to be a little smaller and lighter especially the shoulder
cups).
6. Kidney Pads
7. Slash Guards (protect your forearm, elbow and upper arms)
8., Practice Jersey (light weight - hockey jersey type)
9. Basketball or court shoes
10.Cup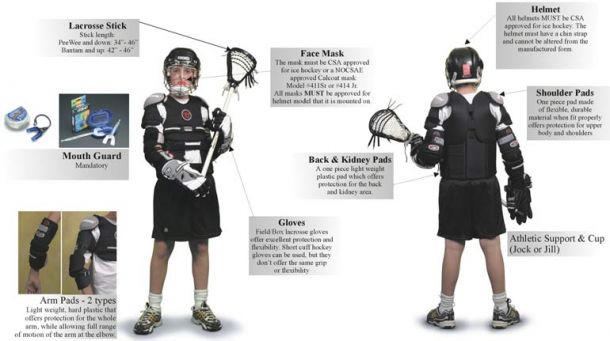 Box Lacrosse Player Equipment Guidelines

Player Gear
Referees may line the players up on the lines before every game and check to make sure the helmets and mouth guards are up to standard. PLEASE pass this on to your team parents and let them know that a ref may request different equipment if it is not up to proper BCLA safety codes. No jewelry allowed, medical alert jewelry acceptable.
Stick Length
Minimum length of stick shall be 34" - Peewee and lower divisions Minimum length of stick shall be 40" - Bantam and above divisions
Shorts
BLACK shorts are mandatory and to be worn by all players in all games. Items can be ordered through our booster club coordinator. Please use the Booster Club order form. Booster club order forms are included in your team folder and each person ordering needs to fill out the form. Please make sure that the parents PRINT their names and that orders will not be submitted without full payment.
Booster Club
Footwear
It is recommended that the footwear worn for lacrosse be kept solely for that purpose. Arena floors are slick and shoes grip well. Absolutely no hairspray or coca-cola to be used in the dry arena floors. Basketball shoes are good as are indoor soccer shoes. A helpful suggestion for some of the younger pre-adult sized kids: Women's runners for those boys in the boys size 3-6, women's 5-8 offer better support and last longer than most boys runners.
Knee Pads
The use of knee pads is recommended for the younger divisions especially for outdoor games as some of the boxes are rough and have debris on the floor.